George Christensen's new job, and Jacinta Nampijinpa Price the star speaker at Australian Taxpayers' Alliance conference
Price, the Country Liberals' latest pick, is a Warlpiri-Celtic woman from Alice Springs, a Sky After Dark favourite and long-time conservative activist best known for her campaign to "Save Australia Day".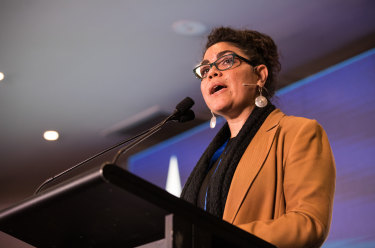 Getting a new senator is a big coup for the alliance, which has recently been fighting a largely unsuccessful battle to legalise vaping.
Joining Price in the lineup so far is the Liberal Democrats' former Victorian upper house MP and failed Senate candidate David Limbrick, famously fined for attending an anti-lockdown protest in 2020.
Attendees willing to stump up $400 for a standard ticket will also hear from cryptocurrency enthusiast Sinclair Davidson, University of Queensland law professor Suri Ratnapala and the alliance's own Gabe Buckley, a former Liberal Democrat Senate candidate, "avowed Satanist and mad hedonist".
Josh gets Como-over
At CBD, we've been keeping a close eye on former Liberal Party talent purged from office by the Great Teal Wave. We can confirm former treasurer Josh Frydenberg will be working in the private sector over the next few years.
The one-time future prime minister is firming up office space in South Yarra's plush Como Centre precinct. While it's not quite Parliament House, the famously publicity-hungry Frydenberg will still have plenty of cameras and microphones nearby – Ten's Melbourne studios are based in the same building.
'Agent of infection' launches lobbying shop
Well-known Labor operative Eamonn Fitzpatrick is the latest man-around-the ALP to hang a shingle outside his own start-up lobbying shop after Anthony Albanese's election victory.
Fitzpatrick's ability as a strategist and fixer in his Labor days led him to be dubbed as the "agent of infection" by his Coalition opponents in Queensland and NSW. A mark of grudging respect, apparently.
Launching his new outfit, Fitzpatrick Advisory, on Wednesday, the former Hawker-Britton director pointed out that he was a handy bloke for "advising businesses – including some of the biggest global and Australian brands – on working with Labor".
One of those brands was the government of Hong Kong where Fitzpatrick spent time in 2020 and 2021 working for UK PR firm Consulum on an $8.5 million contract with the territory's authorities to counter negative foreign press coverage of the crackdown on pro-democracy activists. If he can spin that, he can spin anything.
Reno season in the east
The bulldozers will be out in force over at the glamorous end of the eastern suburbs. After an 18-month wait, sportswear tycoons Graham and Sarah Bursill finally have the green light from Woollahra Council to demolish and rebuild their waterfront Dumaresq Road, Rose Bay property, which will now feature a swimming pool, sauna and boatshed.
Over on exclusive Coolong Road, Vaucluse, Alexander Phillips, partner at Phillips Pantzer Donnelley Real Estate has won approval for a $7.9 million demolition and rebuild job on his plush $11.1 million pad, which he plans to turn into a "forever home".
Loading
Phillips now owns $23 million worth of real estate on the street, after snapping up a third property for $6.65 million last week following a heated race to the gavel at auction. That's still lagging Menulog co-founder Leon Kamenev, who bought four properties on the street to turn into a single mega compound.
"We're not doing what the Menulog guy's doing – he owns four," Phillips told CBD.
But the duo won't be duking it out for control of the prized strip anytime soon. "I'm done mate, I'm broke," Phillips said.
The Morning Edition newsletter is our guide to the day's most important and interesting stories, analysis and insights. Sign up here.